GAM - Giovani Artisti Mantovani
10th February 2016
Friday 19th of February, the creative review GAM opens at 5.30, in the House of Mantegna. The exhibition, curated by Vincenzo Denti and Gianfranco Ferlisi, investigates a special segment of the local contemporary art, expressions of authors who are distinguished by merit and originality in the visual disciplines.
Casa del Mantegna, via Acerbi - Mantua. Free amission.
19th February- 13th March 2016.
From Tuesday to Sunday 10/12.30 am
Wednesday and Thursday 3/5 pm                   
Saturday and Sunday 3/6 pm 
Catalog € 20.00

Expo Wikiarte 2016 - VI edition

19th January 2016
Saturday the 30th January, the group exhibition Expo Wikiarte 2016 opens at 4 pm, at the Contemporary Art Gallery Wikiarte in Bologna. I am exposing Greta. Vernissage cured by Professor Giovanni Faccenda and Professor Carlo Motta.
Finissage saturday 28th february at 6 pm, by Professor Giorgio Grasso
Galleria Wikiarte, 18 via San Felice - Bologna. Free admission
28th January - 28th February 2016.
Tuesday - Saturday 11am - 7pm
Sunday and Monday closed.
Catalog € 8.00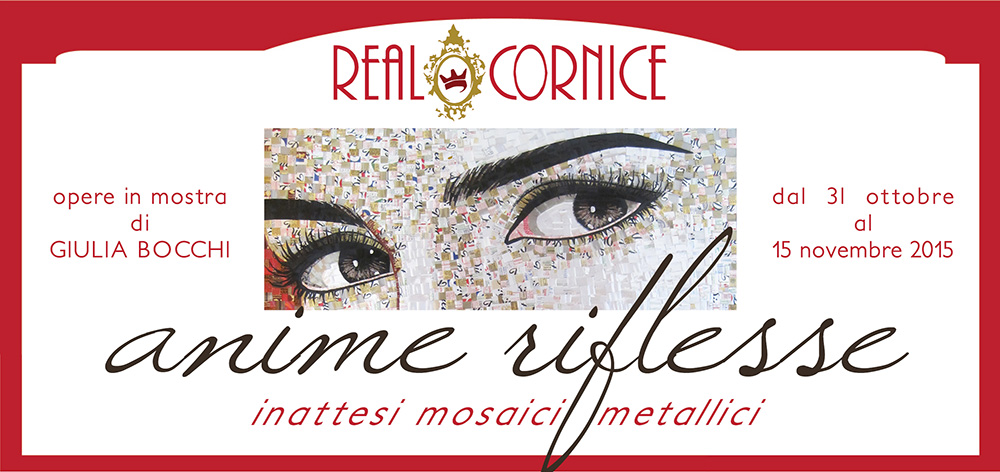 11th October 2015
Saturday the 31st of Octobet, at 5 pm, the exhibition "Anime riflesse" opens at the Real Cornice Gallery in Montichiari. In this personal exhibition I will display seven pieces, following a trail from the beginning til my last creation.
Galleria Real Cornice, via Ciotti 58 - Montichiari (Bs). Free admission.
31st October - 15th November 2015
Tuesday - Sunday 9 - 12 am / 3 - 7 pm
Closed on Monday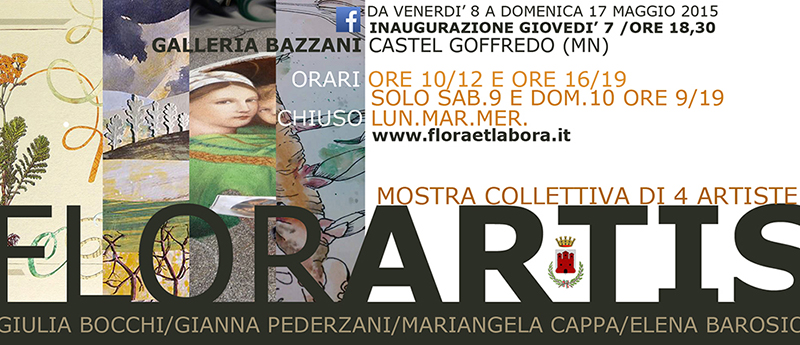 5th May 2015
Thursday the 7th of May the exhibition "Florartis" opens at 6.30 pm, where four artists portray the world of FLORA et LABORA. I will be there with collages and paintings, but also a new mosaic never seen before: a still life.
Galleria Bazzani, via Roma 5 - Castel Goffredo (Mn). Free admission.
From 7 to 17 May 2015.
From thursday to sunday 10 - 12 am / 4 - 7 pm
Saturday 9 and sunday 10, during FLORA et LABORA, 9 am - 7 pm.
Luminosi Ritratti e lievi Gioielli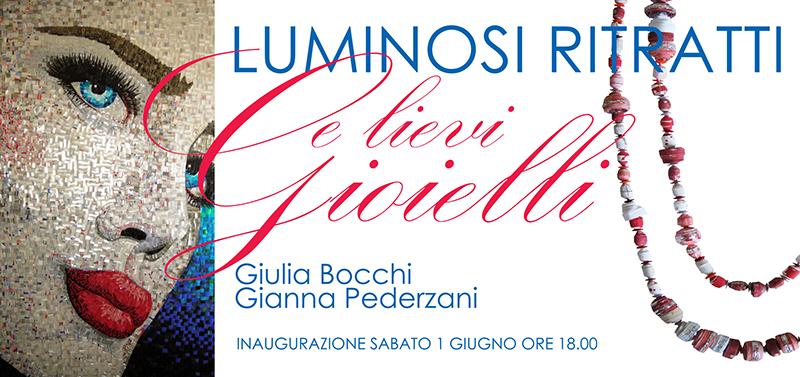 17th May 2013
Saturday 1st of June the exhibition "Luminosi Ritratti e lievi Gioielli" opens at 6pm, where bright metallic portraits will be exchanging light and colours with gorgeous jewelry made with paper and Swarovsky crystal.
Bazzani Gallery, via Roma 5 - Castel Goffredo, Mantua, Italy. Free admission.
02 - 16 June 2013.
Tue - Fri 4pm - 7pm | Sat - Sun 10am - 12am /4pm - 7pm | closed on Monday | Sunday 2nd of June, due to the old book market Libri Sotto i Portici, open from 10am to 7pm | From Tursday 13th to Sunday 16th, due to the gastronomic event Festa del Tortello Amaro, open till 11pm.
Artists for the environment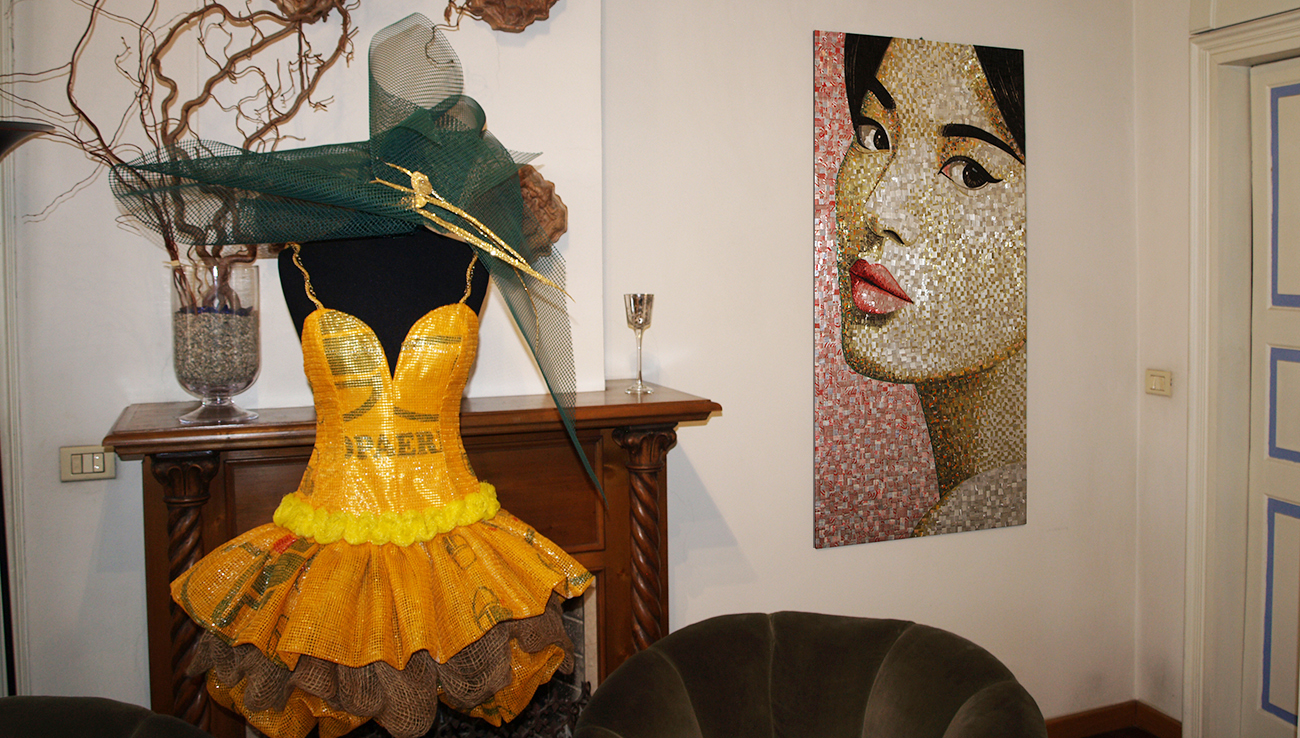 8th May 2013
Wenesday 15th of May, at 9pm, here will be a talk with Giulia Bocchi about the peculiar technique used to make her impressive portraits, while the stylist Irene Sarzi Amadè performs an instant fashion, dressing a model with unusual materials.
Home Gallery 1 Stile, via Calvi 51 Mantua, Italy. Free entry.
30th April 2013
Friday the 3rd of May, at 6pm, opens "Differenziata", a collaborative show featuring portraits by Giulia Bocchi and creations by the fashion stylist Irene Sarzi Amadè.

3-18 May 2013. Tuesday to Friday from 4 pm to 7.30 pm.
Home Gallery 1 Stile, via Calvi 51 Mantua, Italy. Free entry.

10th April 2013
Saturday 18th of April, opens the group show "Ffound Exhibition", featuring work by the following artists: Zac Fremman, Russell West, Jud Turner, Michael Speller, Joanne Tinker, Wycliffe Stuchbury, Steve McPherson, Ryan Matcham, Frank Miller, Giulia Bocchi, Keith Haynes

18th April to 25th May 2013. Monday to Friday 10.30 am – 6 pm; Saturday 11 am - 5 pm.
Woolff Gallery, 89 Charlotte Street, London W1T 4PU (UK)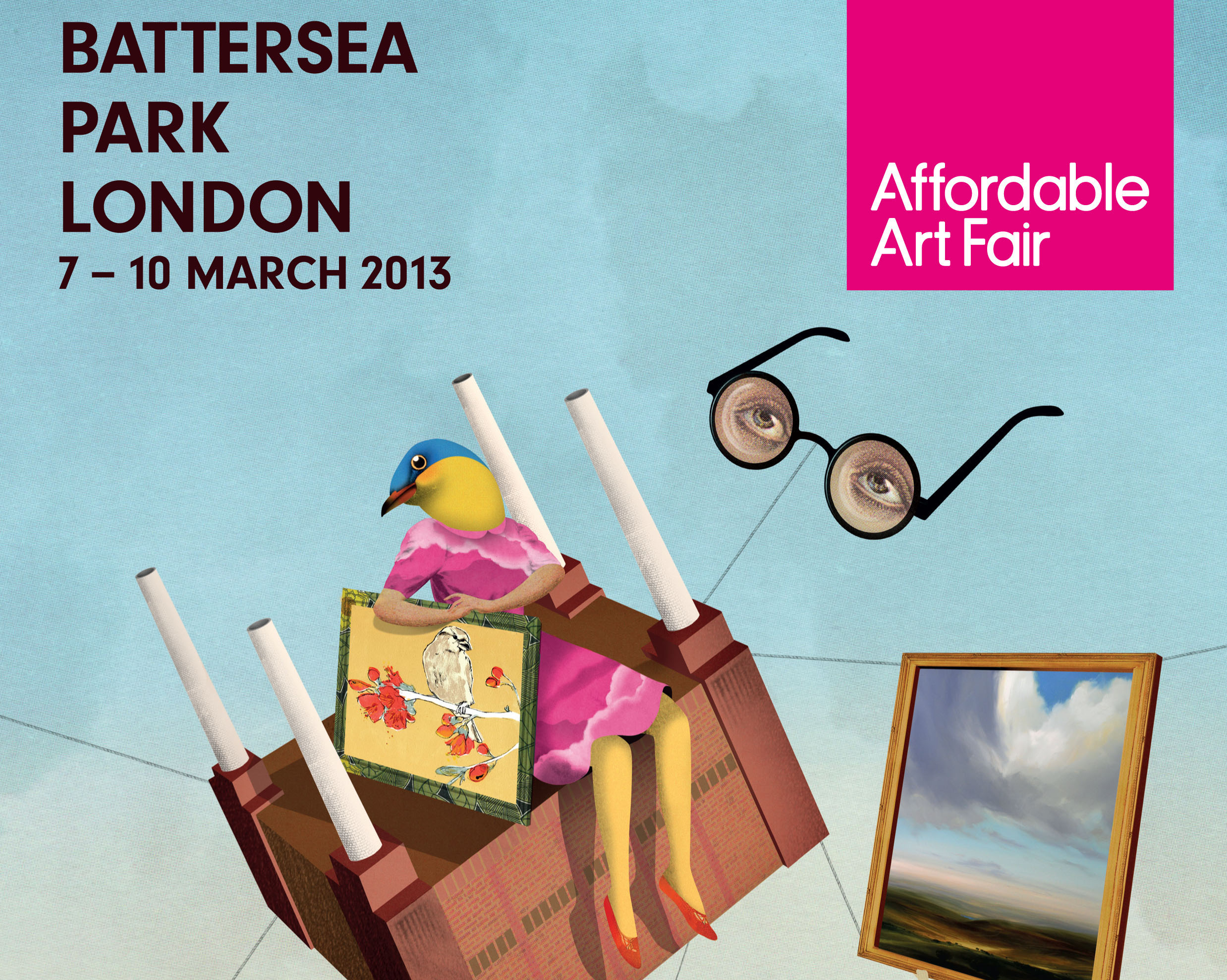 1st March 2013
Next week, my artworks will be at the Affordable Art Fair in Battersea. You can find me at the stand E12, Fflow Gallery.

Wenesday 7th 5.30 pm - 9.30 pm. Tursday 8th 11.00 am - 9.30 pm. Friday 9th, Saturday 10th and Sunday 11th 11.00 am - 6.00 pm.
Battersea Evolution, Battersea Park, SW11 4NJ London (UK)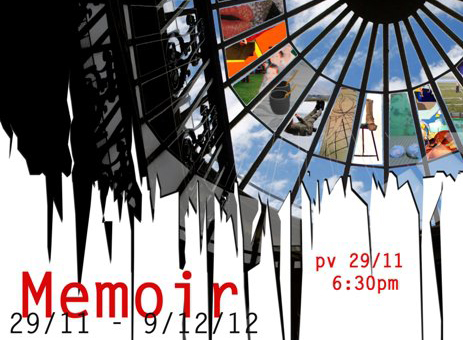 20th November 2012
Tursday 29th of November, at 6.30pm private view of the group show "Memoir", with drinks and music.
Featuring Andy McCafferty, Daniel Bevan e Tom Soare, Ewa Obrochta, Francesca D'Ascari, Froso Papadimitriou, Giulia Bocchi, Harpal Chema, Hiromi Tsuha, Iago Bart, Jonathan Bradbury, Rafal Bizunowicz, Rodrigo Pires, Sophia Mirza, Tyron Joseph, Yumiko Nakajima.

Every day 12.00 am - 5.00 pm.
Topolski Century Gallery, 150/152 Concert Hall Approach, South Bank, London SE1 8XU (UK)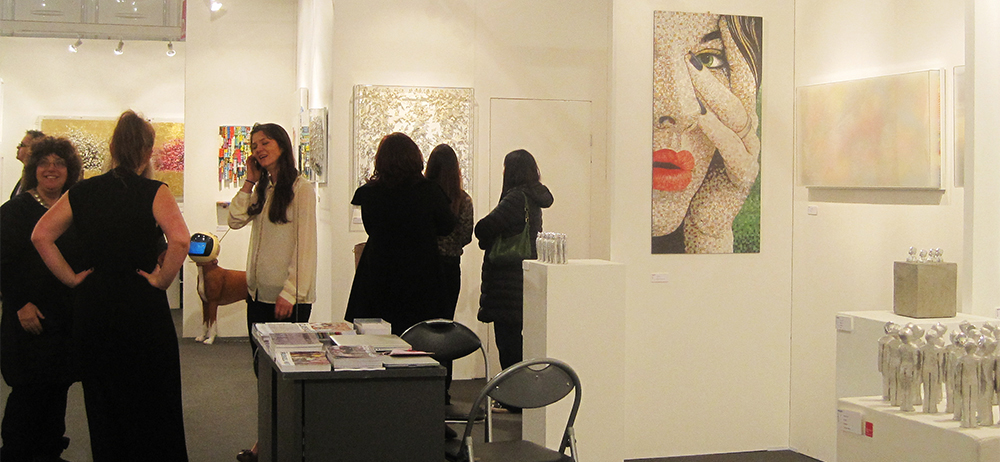 1st November 2012
Big opening today at the Affordable Art Fair in Hampstead! Come along and visit us! You can find my artworks at the stand D10, Woolff Gallery.

Tursday 1st 11.00 am - 9.30 pm. Friday 2nd, Saturday 3rd and Sunday 4th 11.00 am - 6.00 pm.
Lower Fairground Site, East Heath Road, Hampstead, London NW3 1TH (UK)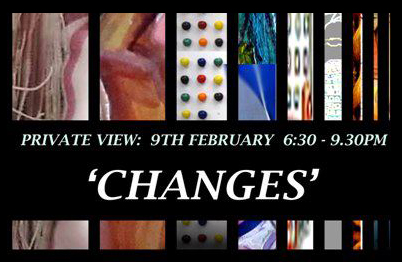 1st February 2012
Tursday 9th of February, at 6.30 pm, opens the group exhibition "Changes", at Topolski Century Gallery, London.
Featuring Andy McCafferty, Andrea Raimo, Chris Jonathon – Kouame, Daniel Bevan, Ewa Obrochta, Francesc Maquede, Francesca D'Ascari, Froso Papadimitriou, Giulia Bocchi, Harpal Chema, Hiromi Tsuha, Iago Bartivas, JiYoung Kim, Rafal Bizunowicz, Rodrigo Pires, Sophia Mirza, Tyrone Joseph,

Every day 12.00 am - 5.00 pm.
Topolski Century Gallery, 150/152 Concert Hall Approach, South Bank, London SE1 8XU (UK)